WHO WE ARE /
Your personal marketing department
That's right, our clients think of us as their personal, in-house


marketing & advertising department.
Cindi Routh
President & Team Leader | Trailhead Marketing Team
With more than 25 years of marketing and advertising experience, Cindi's background includes work at major broadcast companies as a General Sales Manager, National Sales Manager and most recently as President (Ahem…we prefer Team Leader) of Trailhead Marketing Team.
Her experience inside broadcast companies, hiring and training record setting sales teams, gives her the 'insider knowledge' needed to be one of the sharpest media planners/negotiators in the country. The Ohio School of Broadcasting has recognized her expertise by inviting her on board as a guest professor in 2006 where she taught "The Role of Sales in Broadcast."
Cindi has a proven track record of adding value for her clients that is paramount to their success and helps give her clients the footprint they need in the market place. Cindi's smart negotiating skills secure added media and press coverage where others may, unfortunately, pay for them.
When she's not rolling up her shirt sleeves hard at work for her clients, she's rolling them down while negotiating the black & blues of some of Colorado's most beautiful ski slopes!
---

Betsy Donnelly
Media Relations Director
With three decades of marketing experience, Betsy's background includes work in the aviation industry, healthcare and oncology, business-to-business communications, branding, digital communication and event planning.
Her keen eye and creative flair give her the foundation to build successful marketing campaigns—each individually tailored to meet the needs of her clients. Whether it's strategic planning, creative brainstorming or media relations, Betsy has an innate sense of what works.
Trained as a private pilot, Betsy's work has earned her the praise of not only her peers, but numerous awards within both the advertising and PR segments. Such honors include the 1988 CLIO for the network cable TV ad, "SkyPager Library," and the 1990 PRSA National Silver Anvil award for The General Aviation Market Expansion (GAME) Plan. In 2000, Betsy was named Aviation Writer of the Year by the Missouri Pilot's Association.
In 1995, Betsy was named Kansas City's Woman of the Year for her fundraising efforts on behalf of the Leukemia Society of America. And most recently, she was awarded the prestigious 2008 Volunteer of the Year from the National Touched by Cancer Foundation.
Recent client project accomplishments include:
TNCI Communications: This Boston-based telecom service provider won Best of Show with a corporate video we produced for the 2008 Channel Expo Convention & Trade Show.
Patient Resource Cancer Guide: Featured in Oprah Magazine (7/07 issue) as a key communications tool during the debut of this new publishing client.
Executive Beechcraft: Featured in Wall Street Journal (8/07) during acquisition by British meg-company, BBA Aviation.
Hammonds Industries: Winner of Innovator of the Year 2008 with launch of new Omni Directional Vehicle in aviation ground support industry.
Lance Armstrong Foundation: Strategic marketing initiative with this patient advocacy organization resulted in cover article in national cancer guide and LAF president joining board of directors.
Provence Homes, Inc.: This upscale midwest home builder recently award Home Builder Association's most coveted prize as Builder of the Year as a result of overall marketing campaign 2008.
---

Kathy Gregory
Sr. Media Buyer
Kathy is a 30+ year veteran of media planning and buying. Her first 25 years were spent at Grey/Lois in Chicago where she was Media Director and placed annual support in numerous markets for an extensive list of clients. Her experience and her reputation are well established and Kathy is considered a creative buyer with an instinct beyond the obvious. She takes the time to examine all quantitative and qualitative aspects of a client's buy and looks for ways to most effectively showcase the creative message.
Kathy has served as a guest moderator for industry luncheons, a presenter in media related classes at local universities, an expert witness for a media related court case and is a past Vice President for Women in Radio & Television/Chicago Chapter.
Kathy's passion is definitely media…but she also enjoys travelling, attending college and professional sports events, playing tournament bridge and channeling her inner sommelier with ongoing wine education and attending tasting events.
---

Alicia Van Ausdall
Art Director / Graphic Designer
Alicia Van Ausdall has over 16 years of experience in print advertising, graphic design and art direction combined. She graduated with a Bachelor of Fine Arts (BFA) in Graphic Design from the Kansas City Art Institute, and promptly began working in a variety of roles – including desktop publishing, pre-press production artist, then graphic designer and art director for a group of ad agencies in the Des Moines Metro area. She has served a diverse clientele from small start-up businesses and non-profit agencies through top corporations across the nation.
Alicia believes research and taking the time to brainstorm the challenge presented is the most important part of great design. Many campaigns get lost amongst the competition. Producing work that gets noticed and benefits the client by delivering results leads to work that everyone can be proud of. Long hours and short deadlines are the nature of the business and Alicia is driven to deliver the best solution for the need.
Alicia is an award-winning graphic designer because she loves what she does. Her work has been honored at several ADDY Award Shows and the Art Directors Association of Iowa Design Exhibition, as well as being published in Graphic Design: USA and Promo magazines. Alicia provides smart solutions in all areas of visual communication including: corporate identity / branding, sales and marketing collateral, print advertising and web design.
---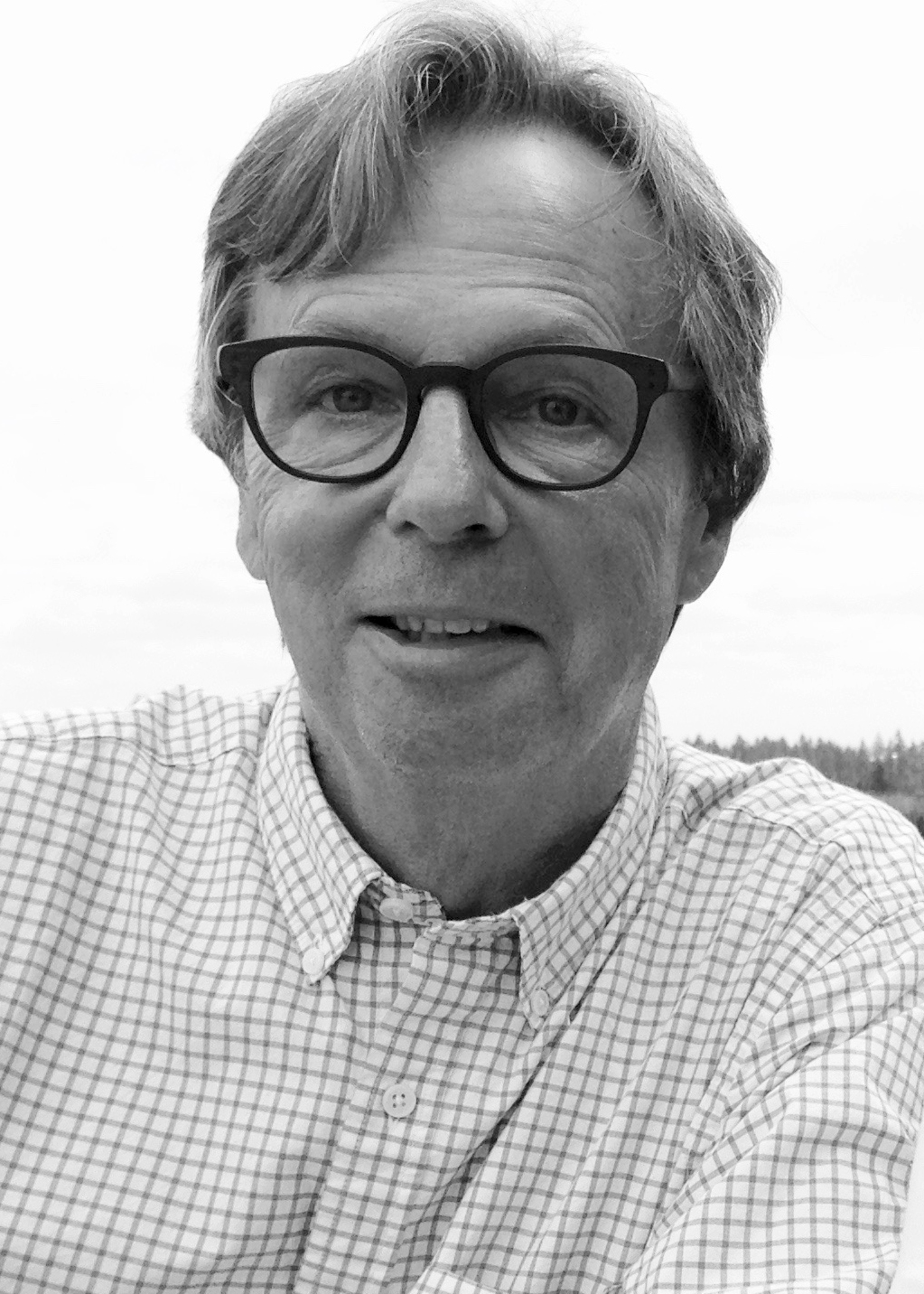 Bill Bornsheuer
Video and Multimedia Producer
Bill brings over 3 decades of advertising and marketing support material production expertise to our team. His natural ability to draw guided his education and professional career path. Cartoonist, layout artist, art director, print manager, creative director, and entrepreneur are positions which have shaped his skill set he uses today in commercial video production and mixed multimedia.
Bill's professional experience from in-house advertising agency employee to freelance producer gives him a unique perspective as to what kind of service and product our clients expect. He enjoys working with people of all ages in studio and on video recording assignments. He has vast experience in the multimedia production side of corporate sales and marketing meetings.
From his early toolbox of pencils, pastels and paste to his Mac "toolbox" of today, Bill delivers Trailhead Marketing Team clients innovative production solutions designed expressly to deliver the results they want.
---
Mark Geis
CFO